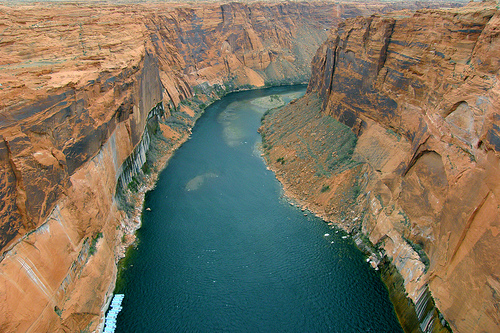 (
Photo by
OliBac
)
UMSL, Mizzou and the other UM-System campuses require students to have a 24 composite on the ACT or equivalent SAT scores to be accepted as freshmen. (They can be accepted with lower scores with high grades and class rank. See
rubric
.)
Unfortunately, our high schools are not graduating students at that level. The average ACT composite score in Missouri is 21.6 It's much lower at some of our metro school districts.
Clayton School District
provides a good picture since they have all (or almost all at 92.48%) seniors take the ACT. In 2011, they had a composite score of 25.8, well above the state average and above the state university cut-off. However, the UM campus cut-off of 24 is a minimum, not a mean, so even many Clayton students wouldn't test high enough to be accepted.
Ferguson-Florissant
had 68.75% of its seniors take the ACT in 2011 with a mean composite score of only 18.4. In order to be accepted to Mizzou or UMSL with that ACT score, a student also has to be in the top 14% of their class and have a 3.5 gpa in their core classes (no padding!).
Riverview Gardens
seniors don't have much of a chance. In 2011, 58.74% of seniors took the ACT with a dismal composite score of 16.1. If their ACT score is below a 17, no matter what their class rank or grades in their core classes, they will not be admitted to Mizzou or UMSL. Being accepted to a 4-year state university will be challenging for most students from Riverview Gardens, nevermind the costs. There is a reason this district is currently unaccredited.
Every child should graduate from high school with the option of going to college, whether they choose to or not. The difference in expectations between high school graduation and college entrance is a canyon rather than a ravine for too many of our kids.
27CDB6E-AE6D-11cf-96B8-444553540000">
When I was in elementary school, I remember one kid who had to go to the principal. The rumor was that he was spanked. I'm not sure how we all knew, but we did. Since I'm ancient (at least my middle school daughter tells me I am), I assumed that would never, ever happen in public schools today.
And then I read the article in
Huffington Post
about a high school "high-achieving" (shouldn't matter) girl who had bruises and blisters after being spanked by a male administrator. Since spanking is apparently common in Texas, the article focuses on the high school's "oops" moment of having a male administer the corporal punishment instead of a female.
My first reaction was that this was a sensationalized Huff Post story, but after doing a bit of research I found out that corporal punishment is still legal and practiced, not just in Texas but in Missouri too (Mo Revised Statutes
160.261. 1.
) In fact, Missouri kids are spanked in public schools on a regular basis. Who knew? In 2006 districts in Missouri reported 5,159 incidents of corporal punishment.
Ed.Gov
Schools would only have to require
parental notification
if that is part of the district policy. Wow. Oh. Wow. This, of course, would never fly in your wealthier, high-parent-involvement districts in St. Louis County.
On the Ed.gov site I looked up several geographically diverse county districts (Webster, Pattonville, Mehlville, Hazelwood, Normandy), none of which showed any instances of corporal punishment. I was surprised, however, to see that the St. Louis City schools did use corporal punishment. (70 instances per
Ed.gov
site) I was right to be surprised as spanking is against SLPS board policy as stated in the current faculty handbook.
Corporal punishment of any kind is not permitted in the St. Louis Public Schools. Any employee who uses physical force or the threat of physical force as a means of student discipline or punishment shall be subject to disciplinary action, including discharge. (SLPS Faculty Handbook 2012-2013) adopted 1991 revised 1999


I will be interested to see if that number is 0 when the 2011-12 numbers from the Civil Rights Data Collection on the Ed.gov site are released.

The Texas school district solved its dilemma by ruling that administrators could use corporal punishment on members of the same sex, which goes in the wrong direction.

Which Missouri legislators will step up and protect our children?