A+ for school choice--private anyway
01/22/08 20:22 Categories:
Policy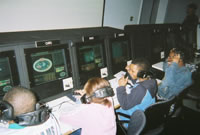 A fellow parent who is from the west coast remarked that while while her former area had schools in the typical top 10 lists, she is impressed with the educational opportunities in St. Louis, especially the choices available. Forbes recently ranked St. Louis
#9
best places for education. We received an A+ in private school options and college opportunities. If there had been a category for public school options, we would have scored high there also (although not an A+ because of access). We like options.
The Libertarian-leaning Show-Me Institute is recommending
tuition tax credits
for families in St. Louis city, Kansas City and Wellston school districts that are under a certain percentage of the poverty level.
Another, very visible, attempt to increase access to choice is Mayor Slay's push to
increase charter schools
. Andy Rotherham of Education Sector has proposed
five "deals"
(pdf) for critics and advocates to work on.
I was especially intrigued by #3.
❝School districts should receive temporary transition aid to help them adjust to losing students, but that funding should be linked to giving charter schools access to unused space..❞
SLPS has extra room, charter schools don't have room, and transitional money would make everyone more likely to sit down at the peace table at come up with a plan to help our kids.
St. Louisans like choice after all. Now we just need to find a model that will work in real life and not just in ivory towers.
Photo of 6th grade Lift for Life students at space camp