Science Fair time is coming up, so we have every intention of working hard over the winter break on those projects. Sigh.


❝Girls won top honors for the first time in the Siemens Competition in Math, Science and Technology, one of the nation's most coveted student science awards❞

The
NY Times
highlights how well girls did this year at the Siemens.


❝Isha Himani Jain, 16, a senior at Freedom High School in Bethlehem, Pa., placed first in the individual category for her studies of bone growth in zebra fish, whose tail fins grow in spurts, similar to the way children's bones do. She will get a $100,000 scholarship❞.

The other important science award is the Intel, formerly the Westinghouse. The St. Louis Science Fair Honors Division is a qualifier for the Intel.

The 2007 Greater St. Louis Science Fair Honors Division
second and third places
were awarded to girls. This isn't a sweep but it does demonstrate that girls do science too.


❝Three-quarters of the finalists have a parent who is a scientist.❞

My kids don't have that going in their favor. Does having friends with scientist parents count?

My daughter has known what she wanted to do for her science fair project for a long time. My son? No clue.




12/17/07 14:26 Categories:
Math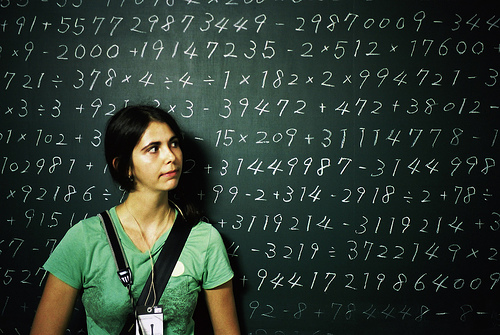 Since I have a daughter interested in math, I've been closely following the girls in math topic for awhile. I was ecstatic to hear how well the girls' math olympiad team did in China. More importantly, they had fun. Ira Flatow, of NPR's Talk of the Nation: Science Friday, interviewed the coach and one of the team members in a segment on Women, Girls and Math. In an interesting "comment," Flatow asked the girl if team had been invited to the White House like so many winning sports teams. I think our country's priorities were demonstrated by her answer.