Inspired by
Eduwonkette
's posts comparing private school rates in various census tracts in
Manhattan
and
D.C.
, I did a much less systematic look at the St. Louis County districts using the
DESE database
. (Sorry--no cool maps) If I do a sort on median income the top three school districts would be Ladue, Rockwood and Parkway. If I do the sort on average income, Clayton shows up in the mix. Only Ladue of those four has a high private school rate.


Region plays a large role in the private school rate as Mehlville and Affton have a higher private school rate than wealthier west county districts. It's a Catholic area, baby! (Lutheran South may have a role in the numbers for Affton.)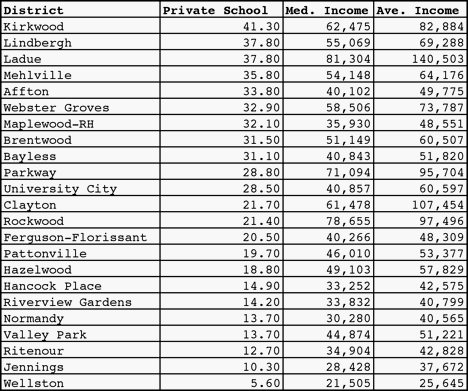 My theory is that the private school rate is dependent on multiple factors such as tradition, income and strong private school presences.

Ladue and Clayton are often considered sister schools with similar test scores, rankings, size, finances etc. However, the private school rates differences are striking. Yes, CBC moved to west county, but that was after the 2000 census. (Will these numbers change greatly in 2010?) I would have to dig more to figure out what Clayton and Rockwood have in common that is different than Ladue. I don't know if Clayton's numbers are related to the high number of people who walk or ride their bike to work, but I imagine Ladue's high numbers are related to the
two Ivy league feeder private schools
within its borders. This is the land that inspired
Confessions of a Prep School Mommy Handler
by
Wade Rouse
.

Yes, of course, there's a general correlation to income although the exceptions are more interesting.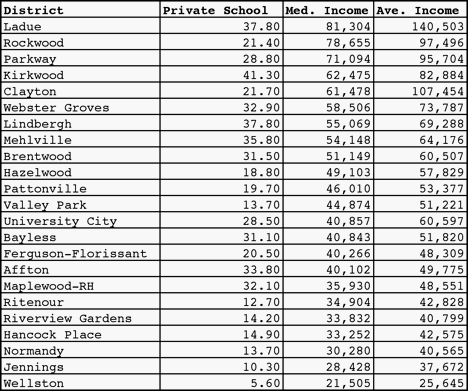 Look at Hazelwood and Brentwood with similar median incomes but different private schools rates or Affton and Ferguson-Florissant. I think the North County region just doesn't have the tradition of attending private schools at the same rate. It's not income there.

Why is Lindbergh's private school rate (top 3) higher than it's median income or quality would lead someone to hypothesize? I'm going back to the Catholic tradition.

Why is Kirkwood, a high quality school district, the number one private school sender? It's not in the top three wealthiest by median or four by average. It's numbers are more in line with Webster or Lindbergh. By tradition I would have put it with Webster, but, apparently, it aligns more with Lindbergh.

I have so many ideas for more posts now—how about that ranking of school districts by how many people go to work by walking or biking? Is there any significance that I can pull out from that? Who knew I could find census data so entertaining.