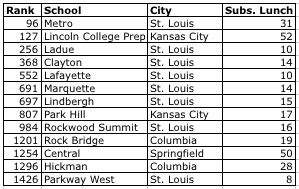 The perennial Newsweek
best high school list
compiled by Jay Mathews is out again. Valid criticisms of the list may be made, but the
criteria
is clear, is easy to understand and has changed the education landscape.
Only 13 schools from
Missouri
made the list, but at least that is up one from last year. In St. Louis Eureka dropped off the list, but Parkway West made it.
Kansas City only has one non-selective school on the list versus seven for St. Louis. There are, however, four high schools on the list on the Kansas City, Kansas side. Both high schools in Columbia made the list, which is impressive. The Springfield high school with 50 percent on subsidized lunch that made the list is not, as far as I can tell, selective. I believe that is the high school closest to the university, which may skew the subsidized lunch demographics, but those numbers are still impressive.
In 2005 St. Louis schools dominated the 10 schools from Missouri that made the list with only Lincoln College Prep, Hickman in Columbia and Park Hill in Kansas City rounding out the list. Lafayette in St. Joseph made the list in 2006, which would be nice to see return.
I think the
geographical map
of the top 1300 schools is interesting with a sea of blue on the coasts and in Florida.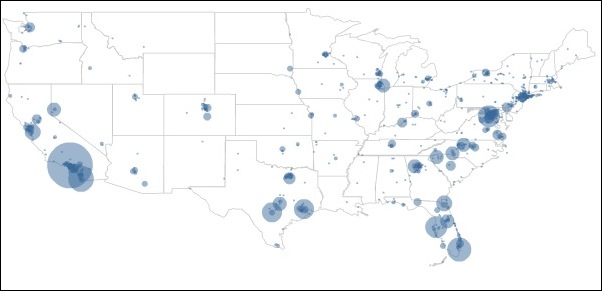 I zoomed in on Missouri and the surrounding states, which show blue in the urban areas with some pinpricks in some college towns.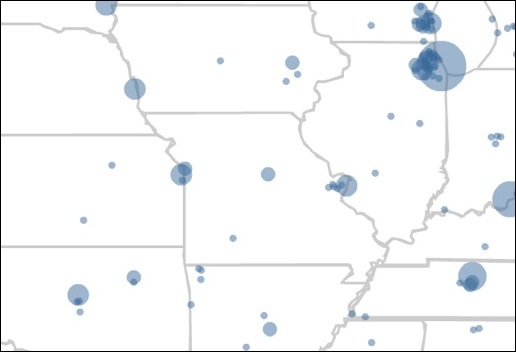 With Missouri Virtual Instruction Program offering
AP courses
(pdf), students in rural schools now have more opportunities to take advanced classes. I would like to see more rural schools make the list.
Schools have to continually increase the percentage of students taking AP/IB exams just to stay on the list. For example, Ladue improved its index number from last year but dropped in rank. This is meant to be a "race to the top," where the top means access to challenging courses for as many students as possible.
A new, non-researched phenomenom has begun in which some schools are all-out embracing the AP courses as a challenge for struggling students in coursework that doesn't require prerequisites.
The rise of high-participation, low-passing-rate AP schools like Bell and Hogan has led NEWSWEEK this year to put them in a separate category, the Catching-Up list, for schools that have met the NEWSWEEK standard for college-level test participation but have AP passing rates below 10 percent. Once such schools pass the 10 percent passing mark, they will have about the same number of passing tests as the average American school, where passing rates are higher but participation is much lower. (AP Programs as Educational Shock Therapy)
Two high schools in Kansas City are using this approach. We'll watch to see how they do next year.
Missouri ranges from 10 to 13 schools on the last from year to year. Next year, I would like to see that change and blown away.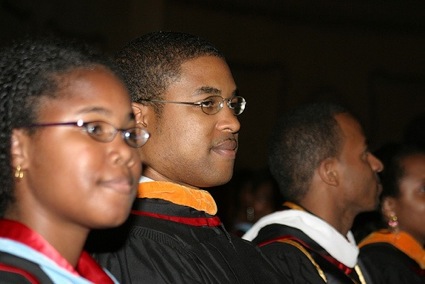 Andy Rotherham and Sara Meade
argue Newsweek's
best high school list
is flawed because it overfocuses on high-achieving students to the detriment of the rest of the student body. Touché.
❝A successful high school should show high levels of student achievement, graduate almost all of its students and not let any demographic subgroup lag far behind.❞
Mathews
counters that
❝such criteria automatically exclude virtually any school serving large numbers of poor or minority students.❞
I think he's onto something.
Rotherham
seems to focus on the
forest
:
❝Remember that when Sara Mead and I took a look at the performance of the top 100 Challenge Index schools on their state assessments we found average black - white gaps in pass rates of 26 points in reading and 31 points in math. One school had a 61 point gap in math!❞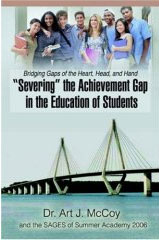 Lafayette High School
in
Rockwood School District
beats that with a 67.1 point differential between white and African-American students in math. Does that mean it's a bad school? No. It means it's a good school (great proficiency numbers!) with a challenge. District officials obviously need to address a real need, and
they are
.
A high school like
Alton
made the U.S. News and World Report bronze star list with only 37% proficiency in math and 33.9% in reading. Sure their discrepancy numbers are only 3.5 in math and 9.8 in reading, but with only 7 African-American students in the high school (1.8%) and such low overall proficiency numbers, is it really a best school? It does have a high percentage of free/reduced lunch students, Missouri does have a tough test, and the school should be commended for the job it is doing, but that doesn't mean I would send my kids there. Maybe I would—I don't know because these numbers just don't provide enough information. (The number of AP courses offered is more relevant for me as a parent.)
While policy wonks and politicians debate the achievement gap, parents want their kids to go to the best high schools for their kids, which is the purpose of the rankings. The
St. Louis Black Leadership Roundtable
, a group working with the St. Louis area school districts to decrease the achievement gap, found that the best schools for African-American students were not the ones with the lowest achievement gaps.
❝A telling conclusion of the report was that schools with the highest achievement levels among black students - such as Clayton, Webster Groves and Kirkwood - often also had the greatest gap in achievement levels between whites and blacks.❞ (BLR 2005 Education Report Card, link to actual report card not operable)
Clayton
has a reputation as one of the top public high schools in Missouri and has high (for Missouri) proficiency numbers (70.2 math, 63.8 reading) and relatively high numbers for black students (37.3 math, 22 reading). Again, wide discrepancy numbers (43.9 math, 55.7 reading). The district and others like it should be
praised
for choosing to continue in the voluntary transfer program instead of kept off of best high schools lists at the same time encouraged to improve black students' achievement. I prefer to focus on improving a subgroup's achievement over focusing on the achievement gap since lowering overall achievement decreases the gap.
The U.S. News & World Report eliminated any school in Missouri with an ethnic population (except Metro and Lincoln College Prep, which are selective). That is not the way to encourage student achievement for all.
(Mo. high school numbers from the Mo. DESE
School Data and Statistics Database
)