With the attention paid to our nation's pathetic eating habits and the
Obama's organic garden
, now seems to be a good time for the St. Louis area school districts to vastly improve their school lunches. Maplewood Richmond-Heights is in front of the "Race to the Top", in terms of lunches anyway, as it implements its Healthy Eating with Local Produce
grant
in conjunction with St. Louis University.
"The kitchen staff has reshaped menus and already ordered their produce from the farmers in the Missouri Farmers' Union," superintendent Henke said. "Some of our high school students will have summer jobs helping process the foods this summer." (Gardening Teaches, Suburban Journals, 2 June 09)
This is in sharp contrast to most of the area school districts. Yes, they may offer some fresh fruit and vegetables at a food bar, a recent and welcome addition, but the overall menu is still weak.
Here's a typical week's menu. This one is for elementary schools from one week in May from
Kirkwood school district
, which uses Chartwells.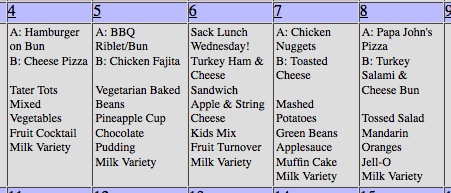 Here's a menu from Chef Ann Cooper's elementary menu (
pdf
). A daily menu might be chicken or veggie quesadilla, rice and beans, salad bar, 1% milk, fresh fruit.
Elem_calendar_sept
Like Maplewood, Kirkwood, U City, Ferguson-Florissant, St. Charles and Clayton have farmer's markets within their borders. Let's step up to the plate, schools.