With the attention paid to our nation's pathetic eating habits and the
Obama's organic garden
, now seems to be a good time for the St. Louis area school districts to vastly improve their school lunches. Maplewood Richmond-Heights is in front of the "Race to the Top", in terms of lunches anyway, as it implements its Healthy Eating with Local Produce
grant
in conjunction with St. Louis University.
"The kitchen staff has reshaped menus and already ordered their produce from the farmers in the Missouri Farmers' Union," superintendent Henke said. "Some of our high school students will have summer jobs helping process the foods this summer." (Gardening Teaches, Suburban Journals, 2 June 09)
This is in sharp contrast to most of the area school districts. Yes, they may offer some fresh fruit and vegetables at a food bar, a recent and welcome addition, but the overall menu is still weak.
Here's a typical week's menu. This one is for elementary schools from one week in May from
Kirkwood school district
, which uses Chartwells.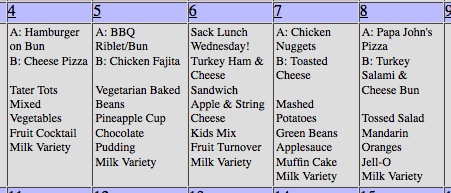 Here's a menu from Chef Ann Cooper's elementary menu (
pdf
). A daily menu might be chicken or veggie quesadilla, rice and beans, salad bar, 1% milk, fresh fruit.
Elem_calendar_sept
Like Maplewood, Kirkwood, U City, Ferguson-Florissant, St. Charles and Clayton have farmer's markets within their borders. Let's step up to the plate, schools.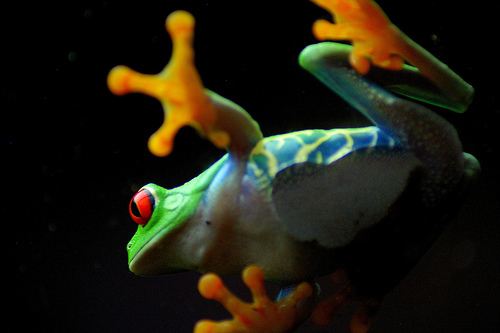 Photo by Adam Baker

Since the MAP is including science now, schools are increasing their focus on teaching science although I'm not sure they have enough.
All of this comes as economic and education experts worry about U.S. global competitiveness.
"We should be embarking immediately on an all-hands-on-deck, no-holds-barred, no budget-too-large crash program for science and engineering education." (Thomas L. Friedman in The World is Flat 3.0)
Missouri needs to increase its state requirements for graduation. All students need to take biology, chemistry and physics (not necessarily in that order). Students graduating in 2010 are
required
to take three years (same as math and history), which is an increase from the currently required two years. I think all students should take four years of all four core subjects. Most schools don't require physics, but the concepts are essential in science and can be taught to all. (See previous post on teaching
physics first.
)
For example,
Hazelwood
currently requires students to take Physical Systems and Chemical Systems, each a semester course. Then students are required to take biology for a year. This includes students with a College Prep designation on their diploma. With the requirement increase, students are then required to add another year of science of their choice. Only one semester of chemistry? They offer a full year of chemistry but don't require it. This is not enough science for people competing with other countries for jobs and deciding on the direction of science via elections.
Francis Howell
currently requires a year of physical science and a year of biology. Chemistry and physics are optional.
Elementary schools need to increase the emphasis on science and integrate science with math and reading.
MRH
, which has a helpful curriculum online, does not include science K-5. Is it not important enough?
Rockwood
does include a grade-by-grade detailed list of its science curriculum starting at the K level. It also puts on a Science Expo at the beginning of the year to stir up excitement and let the students and parents know of science resources available in St. Louis.
Mehlville
doesn't include the detail that Rockwood does, but it gives an easy to decipher overview of the content covered in each grade, the name of the textbook used (!) and suggested resources and activities for families. As an educator I like the Rockwood detail, but the Mehlville overview is definitely more readable. I would like districts to include both.
I looked at the 2008 MAP 5th grade science scores comparing median MAP scale scores. None of the top 10 in the state were in the St. Louis metropolitan area, but none of them had more than 27 students taking the test, so I narrowed my list to districts in the metropolitan area, including charter schools. The top school districts were not surprising, but I was intrigued by some of the districts on the list such as Washington, Windsor and Fox. Parkway was 16th. Union and Festus were 11 and 12.
| | |
| --- | --- |
| DISTNAME | MEDIAN_SCALE_SCORE |
| ROCKWOOD R-VI | 684 |
| LADUE | 682 |
| KIRKWOOD R-VII | 680 |
| CLAYTON | 680 |
| LINDBERGH R-VIII | 677 |
| BRENTWOOD | 676 |
| WEBSTER GROVES | 676 |
| WINDSOR C-1 | 674 |
| FOX C-6 | 674 |
| WASHINGTON | 673 |
I then searched to see if the same districts had the highest number of students scoring at the advanced level.
| | |
| --- | --- |
| DISTNAME | ADVANCED_PCT |
| ROCKWOOD R-VI | 39.6 |
| LADUE | 36.2 |
| CLAYTON | 30.2 |
| KIRKWOOD R-VII | 28.9 |
| WEBSTER GROVES | 28.5 |
| LINDBERGH R-VIII | 25.4 |
| ORCHARD FARM R-V | 22.9 |
| WASHINGTON | 22.3 |
| FOX C-6 | 22.2 |
| JEFFERSON CO. R-VII | 20.2 |
Most of the districts were the same with Orchard Farm joining the list and Windsor falling to 11. Parkway moved up to 12.
Sorting by median Terra Nova scores shuffled the districts a bit bringing New Haven (Franklin Co. R-II) into the top.
| | |
| --- | --- |
| DISTNAME | MEDIAN_TERRANOVA |
| ROCKWOOD R-VI | 82.0 |
| CLAYTON | 81.0 |
| BRENTWOOD | 80.0 |
| KIRKWOOD R-VII | 79.0 |
| LADUE | 77.0 |
| FRANKLIN CO. R-II | 77.0 |
| WEBSTER GROVES | 76.0 |
| UNION R-XI | 74.0 |
| FOX C-6 | 73.5 |
| LINDBERGH R-VIII | 73.0 |
Rockwood comes out on top in every configuration. Whether it is the Science Expo, detailed expectations or another reason altogether, the elementary schools there come ahead.
I'll be interested to watch whether this new focus on science raises everyone's scores.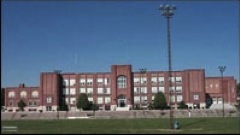 As part of my mission to make schools more transparent and accessible to parents, I searched several random area school districts' websites for curriculum information. Some of them presented detailed information in an easy-to-use format (Rockwood, Mehlville and Maplewood-Richmond Heights), some had partial information (Clayton, Ladue) and some none (Ferguson-Florissant and St. Louis Public Schools).
Rockwood
: detailed information on curriculum by content area, info on curriculum development, easy-to-use website
Mehlville
: pdf of each grade and high school
MRH
: pdf of each school level (elementary, middle, high) and content area, assessment report, easy-to-use website
Clayton
: info on curriculum development including names of curriculum coordinators but not information on content level or grade level objectives
Ladue
: info limited to elementary math under the district curriculum section
Ferguson-Florissant
: no information on district site that I could find via browsing or by search, no info in at least two elementary schools (Airport Elementary, Bermuda Elementary)
SLPS
: no information that I could find via browsing, no search available; no info in at least three elementary schools (Adams, Ashland and Cote Brilliante)
Since curriculum drives education, I applaud Rockwood and MRH for having comprehensive, easy-to-use curriculum sections on their websites. Clayton and Ladue have some catching up to do. Ferguson-Florissant and the SLPS are embarrassingly lacking in this area. While I didn't look at every district's website, I encourage educators to think about what they include and emphasize on their websites and the message that sends to their parents and broader community.